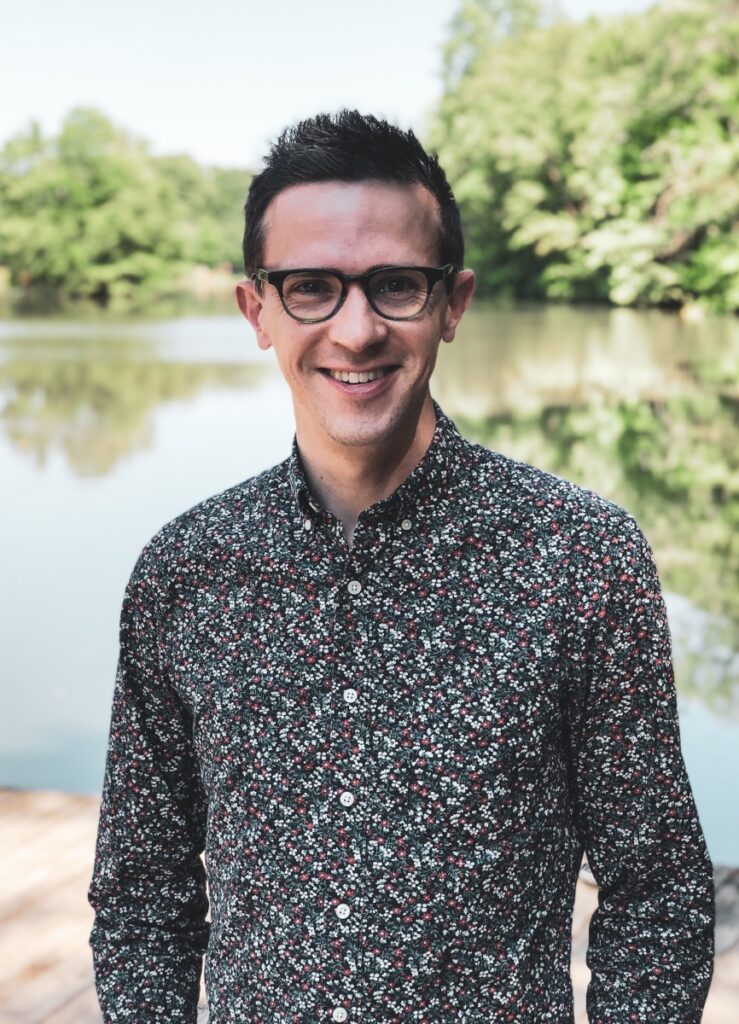 Andy Otto is the creator and editor of GodInAllThings.com, a website devoted to sharing the treasures of Ignatian spirituality through a blog and podcast. He also founded IgnatianResources.com, a project of God In All Things which offers resources, audio meditations, and prayer aids in the Ignatian tradition for individuals, parishes, or groups. His resources and audio meditations have been used by schools, universities, parishes, and spiritual directors around the world. He holds an MA in Theology and Ministry from the School of Theology and Ministry at Boston College. While a student he worked as a graduate assistant for an undergraduate campus ministry volunteer programme at Boston College and interned at South Boston Catholic Academy, helping develop faith formation curriculum for the students, parents, and teachers. Andy taught high school theology and was the campus minister at Mercy High School in Red Bluff, CA for two years. Today he serves as the Pastoral Associate for Faith Formation at St Thomas More Church in Decatur, GA, a Jesuit parish. He also serves on the pastoral team, as a spiritual director and retreat director, at Ignatius House Jesuit Retreat Center in Atlanta.
Three years after graduating with a Communication degree from Curry College in 2006, Andy spent nearly three years as a Jesuit studying for the priesthood, which helped form his love for Ignatian spirituality. During that time he taught primary school students in Syracuse, NY and Kingston, Jamaica, volunteered at a food pantry, worked as an orderly at a palliative care cancer hospital in the Bronx, and completed a unit of Clinical Pastoral Education as a chaplain at Georgetown University Hospital in Washington, DC. He also completed some graduate coursework in philosophy at Fordham University.
After discerning marriage, Andy left the Society of Jesus and worked one year as programming and acquisitions coordinator for the CatholicTV Network in Watertown, MA. During his time there he made connections with Catholic media producers, sought out new on-air content, attended numerous Catholic conferences, and co-hosted This Is The Day three times, the network's weekly live show.
GodInAllThings.com, founded in 2012, is the fruit of Andy's encounter with God throughout the last several years. Based on the practical wisdom of Saint Ignatius' Spiritual Exercises, the website has grown to include over 500 posts, more than 300 podcasts and audio meditations, a quarterly newsletter, and over 50 guest posts. Included in the site's resources is Desires of the Heart, a ten-week series on Ignatian prayer Andy developed, which has been offered for students at several Jesuit universities. The series is available for download and has been used by campus ministers and parish faith formation leaders. He has also developed a three-week course on Ignatian discernment called, What is God's Will? and a three-week course on Ignatian prayer.
In addition to GodInAllThings.com, Andy has blogged on Ignatian spirituality for Loyola Press' dotMagis blog, Aquinas Emory Thinks, and was a regular contributor to Millennial and Busted Halo. He has been published in America Magazine, EcoJesuit.com, The Washington Post, and has published God Moments: Unexpected Encounters in the Ordinary, available through Ave Maria Press.
Andy and his wife Sarah live in Decatur, GA with their three children are both active in ministry.
Want Andy to speak to your group or parish? Visit his Speaking page. To reach Andy you can email andy@godinallthings.com or connect with him on Twitter @andyotto.