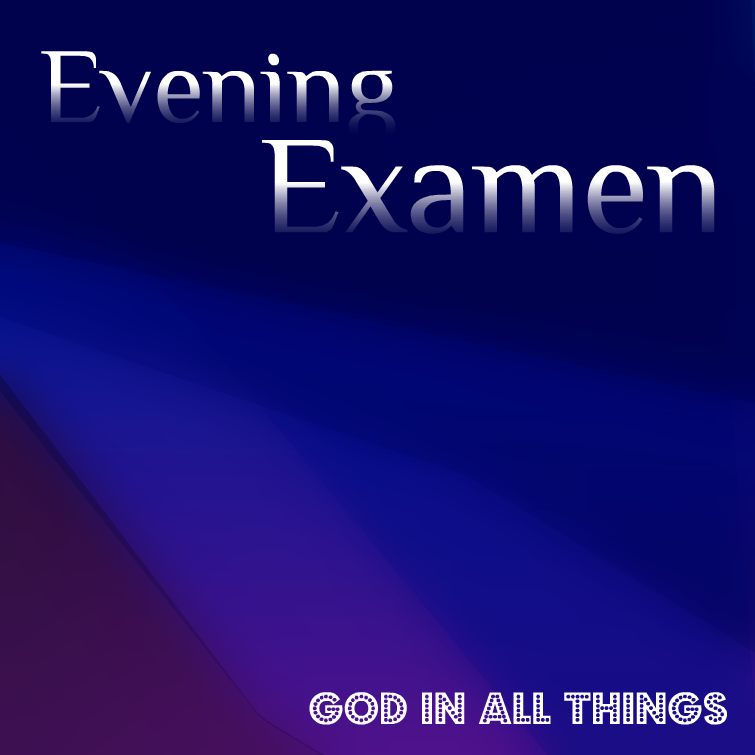 The Examen prayer is one of the foundations of Ignatian prayer. Saint Ignatius said if you prayed no other prayer, you should at least pray the Examen once a day. This version of the Examen is to be prayed at the close of the day, giving you a chance to reflect on the day with God at your side.
Click the image to the right to download and listen to the Examen anytime. Or you may click play below to pray now.
---
PRESENCE
Your desire to pray this examen indicates a deep interior desire to know God and know yourself in a deeper way. This desire indicates God's presence right now, and God's desire to enter into this prayer time with you. Let us ask the Holy Spirit to shed light onto this prayer time… For a moment, let yourself see through God's eyes as God allows you to come into his presence, as God gains awareness of you and all you're feeling, all you're experiencing…
Thank you, God, for spending this time with me.
FEELINGS
You may have experienced today all kinds of feelings and emotions, joys, sorrows, delights, and sadness. As you continue to be aware of God's awareness of you you'll find that God not only wants to know about your feelings, God wants to actually experience them. Allow God to see the mix of feelings you've experienced today. Specific feelings from today may arise. God wants to experience them the way you did. Let him.
Thank you, God, for wanting to feel all that I felt today.
REVIEW
Now go through all the events of your day, let them come to mind naturally without effort. What did I do? Who did I meet? What happened to me? Re-experience these events, let any feelings come on their own, feel free to express to God what was good, what was hard. God is listening right now.
ONE FEATURE
As you've taken note of all the goings on and feelings of the day, there may have been one feature you kept going back to, one thing, either something that happened, perhaps an interaction, a relationship, or a feeling you felt that kept drawing you back to examine more. What is that thing? … Take some time to pray just with that. What can you take from that thing? What might have God been teaching you through that?
Thank you, God, for the grace of learning, of knowing that you're always dwelling with me.
MAGIS
Consider today what you have done for God. How have you lived the Gospel message, of peace, charity, and bold love? … Taking this time for prayer is a gift for you as much as it is a gift to God. Saint Ignatius, after reflecting on the ways he made God a part of his life, would ask "What more can I do for God?" Magis is the Latin word for "more". This word carries within it the spirit of restless desire for greater things, such as living a deeper and more attentive life. Based on your prayer and reflection in the last few minutes, what more can you do in your daily living? What is the magis you can take to tomorrow?
God, thank you for these moments with you, for the joys and struggles of today, and for the gift of compassion. Help me take the grace from this prayer and the magis I yearn for and live tomorrow anew, in a spirit of greater awareness.