He took bread, said the blessing, broke it, and gave it to them, and said, "Take it; this is my body."
– Mark 14:22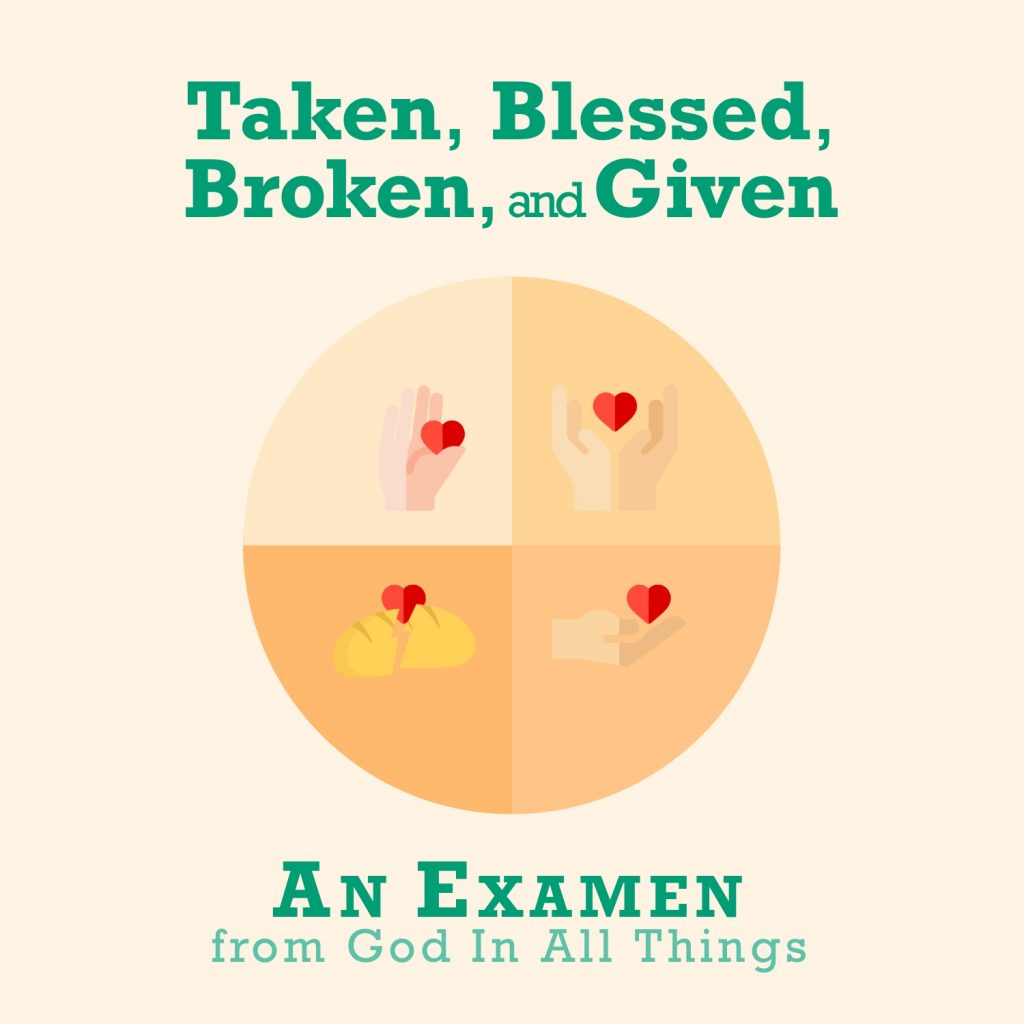 "Took… blessed… broke… gave". These are words Catholics will hear thousands of times in their lives. What comes to mind is the last supper and the Eucharist. But this body also refers to the Body of Christ.
In this variation on the Ignatian Examen, you will pray through how God has taken you, blessed you, broken you, and will give you to the world.
---
I Begin
Taking a few deep breaths, I calm my mind, body, and spirit. I recognize the presence of God with me. I ask God to lead this prayer in me. I don't rush myself. When I am in a state of prayer and feel ready, I move on.
Taken
I thank God for taking me—for claiming me—for calling me by name. If I am baptized, I might spend some moments reflecting on the meaning of my baptism. I bring to mind whatever has brought me to this moment of prayer with God. I consider how God has led my life to this point and that I am in God's hands, whether or not I am always aware of it. How have I been claimed by God?
Blessed
Recognizing how God has taken me and led me, I thank God for the many blessings in my life. I do not move on until I sense gratitude in my heart. Then, I thank God for some of the unique talents, abilities, aptitudes, and callings God has given me. How have I been blessed by God?
Broken
I ask God to reveal to me the ways have I felt the opposite of blessed. When have I felt broken? The death or loss of a loved one? A failed relationship? Abuse or trauma? Difficulty in career? Lack of direction in life? Perhaps there is a personal weakness, physical, mental, or spiritual that I have which makes me feel broken. Though this may be difficult or unpleasant, I take a long, loving, honest look at my brokenness. I talk to God about this.
Given
I now ask God to show me how the ways I've been broken prepare me to share love with others. Maybe my brokenness gives me better understanding of others' pain. Perhaps my brokenness has strengthened me for some task God is calling me to. I meditate on this for a while. I ask how God is giving me to the world. I imagine concrete ways how I can be a gift to others. I allow myself to daydream about the possibilities. I thank God for redeeming my brokenness. I humbly thank God for making me God's gift to the world. I resolve to give myself to God and the world in whatever way God has revealed.
Amen
Yes, Lord. Amen.
---
Written by David Herr, used with permission.
This Examen is inspired by a homily given by Pat Malone. S.J.: "Every Crumb of Creation" from Seeded at God's Hand (which in turn was likely inspired by Fr. Henri Nouwen's Life of the Beloved)