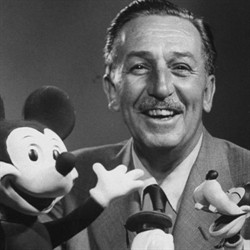 If you know me well you'll know I love Disney; mainly the theme parks because I worked at Walt Disney World several years ago. There are few people who wouldn't say that two of Disney's cornerstones are dreams and imagination: making dreams come true, envisioning the next wondrous thing, putting smiles on faces. This all goes back to Walt Disney's own spirit of dreaming up fantastical ideas. Nothing was too big for Walt Disney's imagination and indeed the Disney imagineers still have what they call "blue sky speculations" which means the sky's the limit – if you can dream it, you can do it.
So what does dreaming and imagination have to do with the spiritual life? I remember during my vocational discernment when I kept asking myself "What's God's will for my life?" my spiritual director suggested I instead ask "What are my dreams?" At first, the question was hard to take to a weekend retreat. I hadn't really considered such a question to enter my prayer. But eventually I came to realise what my dreams were and how God was calling me to follow them.
Dreams
Ignatian spirituality holds desires in high regard. We can think of them as dreams. Not the kind of dreams of large beachside homes or becoming famous. The kind of dreams Ignatius talks about goes deeper. Deep within our hearts are desires that ultimately lead us to God. They answer questions like, What kind of life am I going to live? What vocation is best for me?
When you dream about your future, what do you see?
Walt Disney World has a parade called the Celebrate A Dream Come True Parade. It's one of my favourites. A lyric from the music says, "Look inside your heart, and find the dream that's waiting there for you. Can you see it? When you close your eyes. It's the magic of a dream inside of you." See it in the context of discernment: You won't know what your dreams are unless you look inside where God's voice lies. God uses your desires and dreams to guide you. The hope is that your dreams and God's dreams for you align. And in regards to discernment, our life is an ongoing discernment. Spiritual directors might talk about the "call within the call". The parade song says, "Celebrate a dream come true, with another waiting just for you…" Though we find one calling we soon discover there is another, another dream within a dream, ever calling us to go deeper as we become more who we are made to be.
Imagination
Disney's other cornerstone is imagination. The movies and the theme parks are built on story, which begins in the imagination of a creator. If we zoom out really big picture we can see our world, all creation, originating in the imagination of God. And we help in writing the story, hopefully going along with what God has in mind, though often we stray from God's plan and choose to begin writing a story that God never imagined or hoped for. So how do we know something of God's story? We can start with scripture. The Bible is filled with stories we can not only read but place ourselves in.
Walt Disney imagined his theme park to be like a movie set, a place where you could literally step into the movies and watch them come to life before your eyes. Walk down Main Street and you're transported to the turn of the 20th century. Enter Tomorrowland and you've been transported into the future. The characters around you come to life and even interact with you. You become part of the action. Walt saw stories not as words on a page or flat frames in a movie, but as something our own imaginations can add to and personally touch our lives.
Ignatian spirituality sees the same with the stories in the Bible. Our imagination can place ourselves in the boat with Jesus and his friends on the stormy sea. Or at the table at the Last Supper, listening in on the conversation, even participating. Ignatius says if we let our imagination free, not forcing it or "scripting" it, God can use it to show us something. I recall, in my own prayer, the vivid scene with Mary and Martha. I was one of their friends waiting for Jesus to arrive to raise from the dead our brother Lazarus. We spoke about Lazarus' life and how much we missed him. But then our friend Jesus came along and brought him back to life. You should have seen the tears and embraces as the four of us rejoiced.
Dreams and imagination are important parts of the spiritual life, guiding us and putting us more in touch with God. It's important to recognise that God also has an imagination and dreams for the world. We do our part as actors and writers. But we're not alone. Sometimes our fellow writers can take the story in an unexpected direction. Our stories are constantly being written with the help of God and our fellow human beings. We cannot ensure perfect endings or plot lines, but paying attention to the story and using the tools of our dreams and imagination we can do our best to guide our lives in the direction God desires. And we can celebrate it.
> Learn more about dreams and imaginative prayer
Listen to an audio version of this post…