This is a guest post by Lizzie McQuillan.
---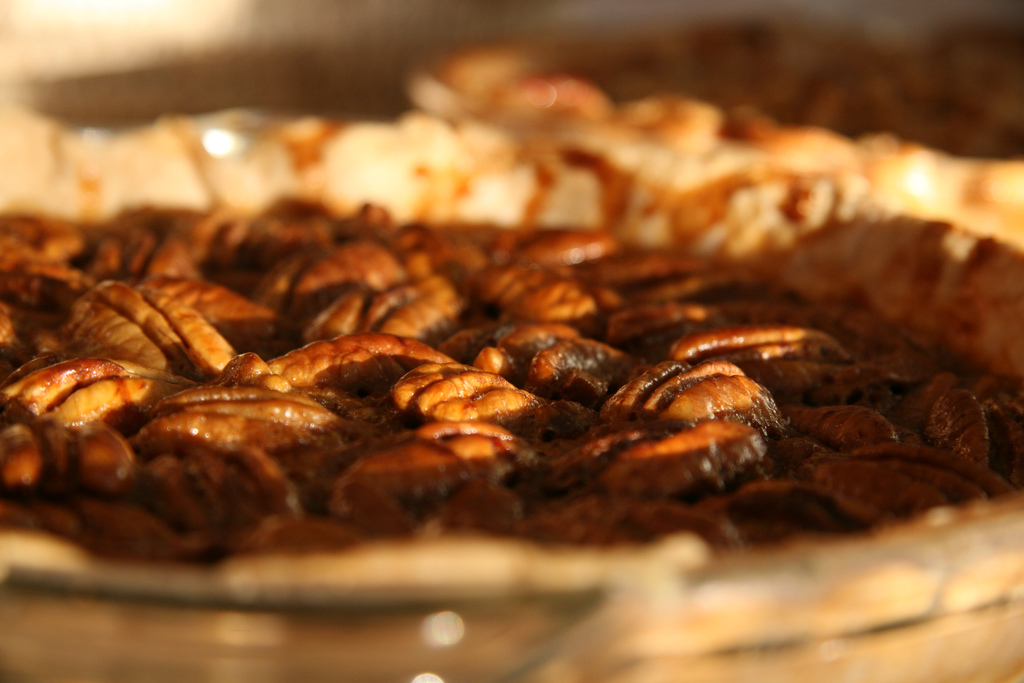 For the past three years I've hosted a "Pie Party" at my apartment. It's my way of getting warmed up for Thanksgiving and bringing friends together over festive food without having to roast a turkey or rent folding chairs. Who doesn't love pie? No one I know.
This year, being the third annual, I decided to mix up my pie offerings a bit: pear, apple and cranberry dutch pie instead of just plain apple, a pumpkin cheesecake with a gingersnap crust instead of regular pumpkin, caramel walnut in the place of pecan, etc. I sprawled out the Real Simple and Martha Stewart Living magazines before me and got to work.
It was all well and good until I embarked upon the caramel walnut. It was 7:15 on Sunday morning, the day of the party. The sky was gray and yellow, and my kitchen was still in disarray from the previous afternoon's preparations. I hunched over the stove in my pajamas, the stale taste of red wine from the night before still on my tongue, and watched (for the third time) as the simmering sugar and water clumped into a white, crusty mound rather turning into the amber, carmel liquid that the recipe had promised. That was when I thought: WHY AM I DOING THIS? I felt tired and cranky and alone. If I was going to be a good hostess, and welcome my friends with joy and authenticity, I needed to take a step back. I turned the stove off. I placed the pan to soak in the sink, and started to make something else.
As the day progressed, I managed to slow myself down a bit. I took a walk around the block and gave my roommates full control over the mulled wine and the vacuuming duties. I made my bed and read part of the newspaper. An hour before the doorbell rang, we were ready to go. Guests arrived with their own creations. When we lined up all of the pies on the table, it looked like a little city. Before each person headed out the door and back into their lives they gave me a hug and thanked me for a fun afternoon. But even after it was all over and the dishes were cleaned and put away, I couldn't help thinking about the moment of frustration over failed caramelized sugar, which I had assumed would bring me such joy.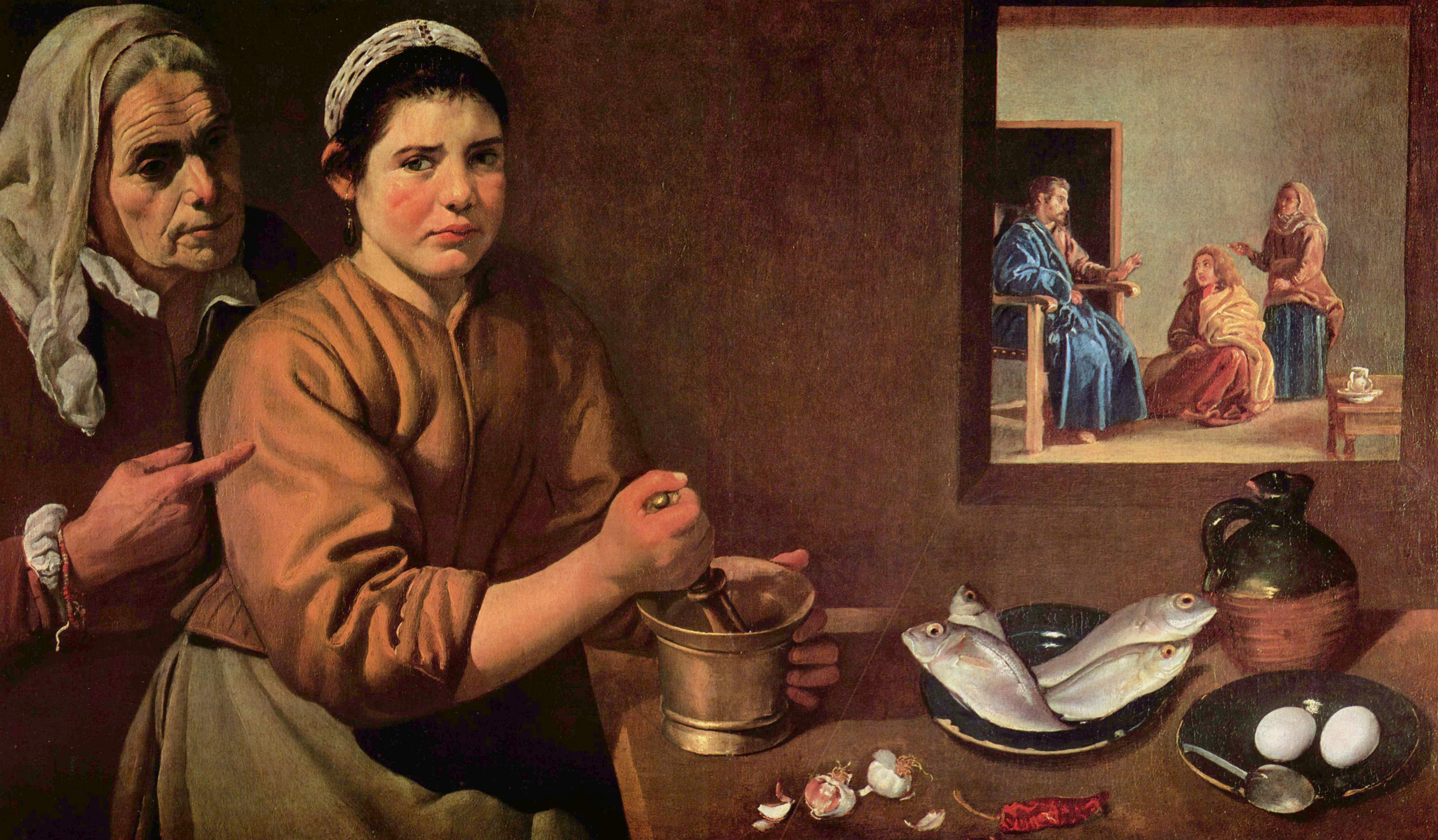 Martha and Mary
In a recent article, Kathleen Hirsh reflects on the tendency for our homemaking and holiday ambitions to suck away our soul if we aren't careful. She centers her argument on the biblical scene at Martha and Mary's house, where Jesus and his disciples are invited to stay. You may know it well: Martha slaves away in the kitchen while Mary takes a seat next to Jesus in the living room. Martha gets upset. The Lord tells her that Mary made the right choice, which probably makes Martha feel more upset, as well as all of the mothers and wives and caretakers who have ever raced around a kitchen while the rest of the crowd sits on the couch.
Hirsh points out that there is a sacred middle ground between the two women's choices that evening, and in order to enjoy ourselves while welcoming others into our homes, we better find it. It's not realistic to ignore our desires to care and feed those we love. But when let our shopping lists become louder than our hearts, we lose ourselves, along with the ability to truly be with those around us. She writes:
Our busyness, especially this time of year, can hide our personal and cultural demons. Over-involvement can camouflage inner emptiness, a sense of being fundamentally flawed — exactly that which we ought to be bringing to the feet of God. And we aren't very good, either at home or in church, at shifting the dynamics so that this surrender and vulnerability can happen. Perhaps that day in Bethany, Jesus was attempting to teach those within hearing distance how to do this: to shift from drivenness and blame to invitation; from resentment to intimacy and grace.
Sure, my friends love pie, and the pie party is a chance to marvel around its vast possibilities—from chocolate to key lime to shepherd's to pizza. But it's only an excuse to bring us together in a warm house on a Sunday afternoon; it's not the reason they come. And my ability to caramelize sugar will not make them love me more or less than they already do.
So for my next party, I'll take it down a notch. I'll go back to apple, pumpkin, and pecan. Then I'll sit on the couch, knowing that few things are needed to make it worthwhile.
Lizzie McQuillan graduated from Loyola University in Maryland and currently works in advancement for the New England Province of Jesuits. She is originally from the Boston area and spent a year in Portland, Oregon serving in the Jesuit Volunteer Corps Northwest. She enjoys making soup (and pies), going to the beach, and spending time with her three siblings. 
If you'd like to write for God In All Things please see the Submissions page.