To listen to this week's meditation, click play.
"[Lent is] particularly appropriate for spiritual exercises, penitential liturgies,
pilgrimages as signs of penance, voluntary self-denial such as fasting and almsgiving,
and fraternal sharing (charitable and missionary works)."
(Catechism of the Catholic Church, 1438)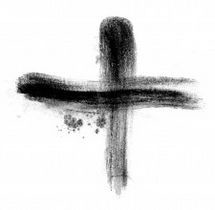 Joel 2:12-14
Even now, says the LORD,
return to me with your whole heart,
with fasting, and weeping, and mourning;
Rend your hearts, not your garments,
and return to the LORD, your God.
For gracious and merciful is he,
slow to anger, rich in kindness,
and relenting in punishment.
Perhaps he will again relent
and leave behind him a blessing, Offerings and libations
for the LORD, your God.
Reflection Questions
What do I hope the Lord will "leave behind" for me this Lent?
We do not always have to rend our garments or "give something up" during Lent. God asks us primarily to rend our hearts. How can I do that this Lenten season?
The ashes of Ash Wednesday mark visibly our sinful nature, but they also mark our need for repentance. What do I need to repent and seek forgiveness for in my life?
How have I experienced God's mercy in my life? When have I questioned it?