This is a guest post by Rebecca Costales-Divinagracia.
---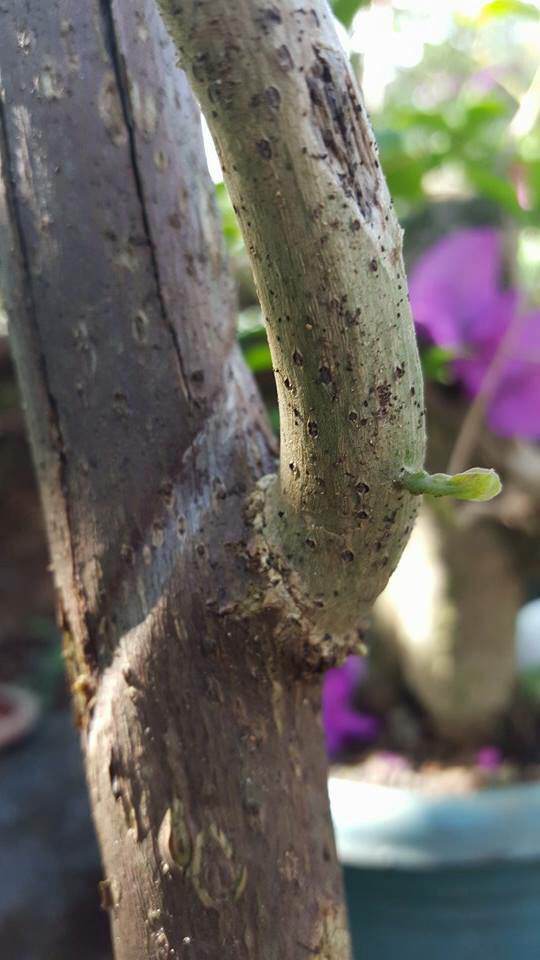 Gardens have a way of inviting my soul to reconnect with God. This happens during the numerous retreats I've attended. It is in the garden where I would develop some of the best insights about life, my faith, and significant relationships. I started gardening when we moved into our new home. My sole intent was to make our yard beautiful. I started with a barren surrounding and accumulated my first plants by borrowing from my mom's garden. Soon I started buying my own plants, making my own compost, and potting plants.
My older brother gifted me with a beautiful Bougainvillea bonsai and I urged my brother to do some cuttings for me. He instructed me to soak them in water for three days and transplant it in a pot after. I was anxious at first seeing this cutting with no roots and leaves, just a piece of stem. At the back of my mind, it seemed dead to me. I visited it every day and saw the same piece of stem buried in my pot. No signs of life. I started to doubt if I did right after all. Weeks and months came. Every morning the sun came up and every afternoon I welcomed the rain. I was hoping my cutting would show some signs of life.
One day, I saw a little green stem that looked like a thorn peeping from my cutting. I looked through my four pots and saw the same pattern: small little green stems growing! You could not imagine how delighted I was to see that little piece of stem.
That same night, during my Examen, I thanked God for the life breathed into my plants. It may take long for them to grow stems, leaves, and flowers, but it will come. God gave me an insight, reflecting on my own life. I can identify parts of my life with the Bougainvillea cutting. There are times when I feel that parts of my life are lifeless, cut off from God. This happens when I am not tending to my prayer life and I see my own imperfections cropping up left and right like weeds threatening to choke me.
I marveled that the source of life of each plant and each cutting is God. The soil, the rain, and the sun that feeds them comes from God. Even if I don't feel God working in me, and cannot see the overt signs, God is still working in parts of my life in ways that I cannot understand, but can only be grateful for.
Rebecca Costales-Divinagracia is a Senior Lecturer at the University of the Philippies–Baguio, and a part time online-writer. She was introduced to Ignatian Spirituality by her mentors, spiritual director, and Jesuit priest friends. The wisdom of seeing and discerning God everyday is one gift she can hold as a guide to being a wife, a teacher, a mother, and a friend.
If you'd like to write for God In All Things please see the Submissions page.