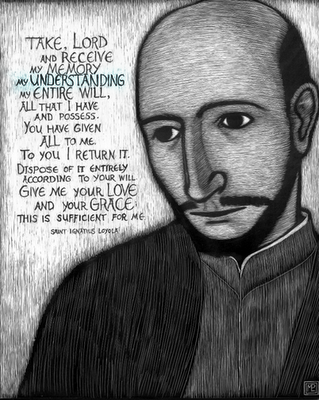 Life is far from understandable. Human beings lead a very confusing and sometimes nonsensical life as we attempt to navigate through years of schooling, learning our manners, relationships, and just growing up. And despite the number of questions we ask, the clarity of direction for our lives never completely emerges in the way we expect. Even feelings of certainty never quite fully stay. So how can we find some solace when we find ourselves, once again, saying "I don't understand!"?
Let's have a quick read of Saint Ignatius' Suscipe prayer, otherwise known as the Take and Receive:
Take, Lord, and receive all my liberty,
my memory, my understanding
and my entire will,
All I have and call my own.
You have given all to me.
To you, Lord, I return it.
Everything is yours; do with it what you will.
Give me only your love and your grace.
That is enough for me.
It's easy to see the part of this prayer about giving God our own wills. We acknowledge that sometimes we must give up our liberties and our own plans or freedom to do what we want. But for me, I notice that it's not only my will or possessions I must surrender to God, but I must surrender even my understanding! When I was discerning my vocation this part of the Suscipe really stood out to me. My understanding is also a gift from God and I need to be free to return that as well.
Is it that God snatches away my understanding? No way! But how tightly am I gripping it? Must I understand precisely why my life is going one way or another? Even amidst the confusion that surrounds the death of a loved one, am I clinging to a need to understand the "why" of death? Understanding is a gift of the Holy Spirit. God gave it to us to help us come to know the right way to live amidst the bombardment of different messages and voices around us. It guides us to where we need be. But it doesn't mean we understand all things. Understanding is limited by the information we have and in regards to our lives, there is a lot of information, such as future events or God's ways, that we have no way of knowing. Thus, our understanding halts and we cry out, "I don't understand!"
"For my thoughts are not your thoughts, nor are your ways my ways, says the Lord." (Isaiah 55:8, NRSV)
That's okay. In those moments can we acknowledge this limitation and say, "Take, Lord, my understanding. It is a gift you gave; do with it what you will. I can't always understand everything and that's okay, because your love and grace is enough for me."
Listen to an audio version of this post…