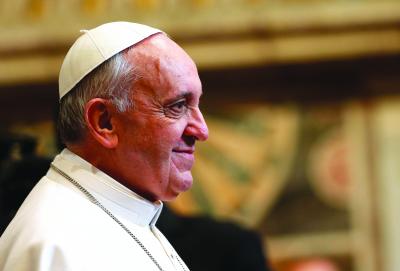 Many of you may have had the chance to read the lengthy interview that came out yesterday with Pope Francis. It was published in 16 Jesuit publications around the world and the pope's frankness has already moved and surprised many people (and secular media outlets).
In it the pope discussed many subjects, but what is clear is how much his Jesuit and Ignatian charism influences his life and his lens of the Church. Here are a few quotations from the full interview:
On God In All Things
"Finding God in all things is not an 'empirical eureka.' When we desire to encounter God, we would like to verify him immediately by an empirical method. But you cannot meet God this way. God is found in the gentle breeze perceived by Elijah. The senses that find God are the ones St. Ignatius called spiritual senses. Ignatius asks us to open our spiritual sensitivity to encounter God beyond a purely empirical approach."
On Discernment
"Discernment is one of the things that worked inside St. Ignatius. For him it is an instrument of struggle in order to know the Lord and follow him more closely. I was always struck by a saying that describes the vision of Ignatius: non coerceri a maximo, sed contineri a minimo divinum est ("not to be limited by the greatest and yet to be contained in the tiniest—this is the divine")."
On Prayer
"Prayer for me is always a prayer full of memory, of recollection, even the memory of my own history or what the Lord has done in his church or in a particular parish. For me it is the memory of which St. Ignatius speaks in the First Week of the Exercises in the encounter with the merciful Christ crucified. And I ask myself: 'What have I done for Christ? What am I doing for Christ? What should I do for Christ?'"
Read the full interview in America Magazine.