Faith in the age of Yeezus was a blog I attempted to start that examined the intersection of faith and pop-culture. The two entries of this blog are honest stabs at understanding why we, as human beings, are drawn towards pop culture through art, music, television, movies, among other forms of expression. Moreover, I believe that we must interact with pop culture as people of faith, not trying to change it from the outside in, but from the inside out. After all, pop stars today are not very shy about co-opting the name "Jesus" for their own gain (see Kanye West, "Yeezus," or Lily Allen, "Sheezus," among others). It was an unclear path, and I tried to follow it, but stopped blogging because I could not find the right words to describe what I was trying to say.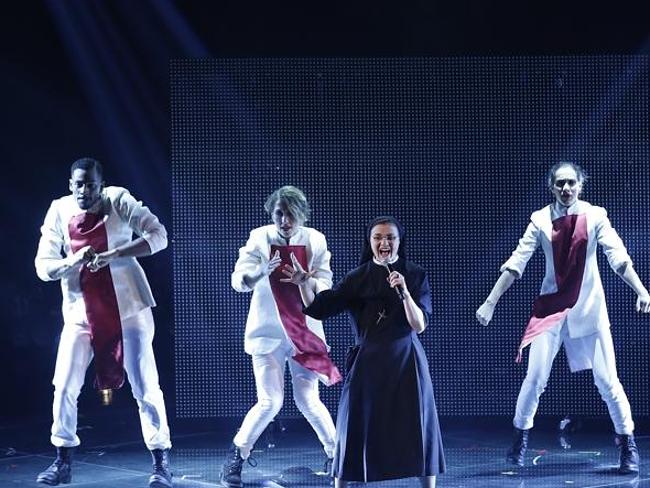 Then Sister Christina came along.
Sister Christina Scuccia is an Italian Ursuline nun who, in 2014, won The Voice competition in Italy. I watched the video of her audition, and the faces of the judges when they turned their chairs around to see this petite, habited nun and hear her pipes of gold. Flabbergasted, they all invited her to be on their teams, and, after choosing a team, she worked her way towards victory. When asked what she thought Pope Francis would think during her audition, she responded: "I am waiting for a call from Pope Francis. He says that we should go out and evangelize, saying God doesn't take anything away from us, but gives us more. I am here for this."
Her first single, "Like a Virgin," embodies this phrase because it makes more out of a song that seemingly had only one meaning. The sultry Madonna video and radio hit from 1984 coos and seduces the listener by promising that she feels "like a virgin, touched for the very first time" when she shares herself with that special person. On the other hand, Sister Cristina's version of the song changes the rhythm and instrumentation, so that it sounds more like a ballad. "By reading the text, without letting yourself be influenced by previous [interpretations], you discover that it is a song about the ability of love to renew people, to redeem them from their past. And that's how I wanted to interpret it," she said in an interview. She found the text of a song and discovered something more from it: a new perspective, a new idea.
Isn't this what God promises us? In Isaiah, God assures the Israelites that something new is happening amidst the destruction of their Kingdom. He challenges the people not to dwell in the past, and to offer praise through their terrible strife. Paul in the second letter to the Corinthians challenges this early Christian community to enter into newness of life that was (and is) opened for us by Christ's resurrection. God challenges us to look at everything with a new perspective, because every day is another day of living life in the resurrection. We are called to see everything new, to see reality as a constant renewal of faith, hope, and love.
Pop culture can be detrimental, misguided, and sometimes hellish. For so long, Madonna's "Like a Virgin" was (and continues to be) interpreted as just one of many highly sexualized version of femininity that cause young girls to measure their individual worth and the worth of others by whether or not they can make somebody feel good. However, Sister Cristina's version attempts to breathe new life into this song and cause people to think about God, their own relationships, and their own lives. Pop culture can be used as a tool for evangelization, and infusing our pop culture with the Gospel will challenge us to see every aspect of reality alive with God's love.