Micah looked up at me with watery eyes as I said goodbye for the second time in 24 hours. In the face of this seven-year-old Ecuadorian I glimpsed—perhaps for one of the first times in my life—what felt like absolute powerlessness. I knew that no matter what I did, I could not change this boy's life beyond our short time together. Despite my life of privilege, I could not make it so that his home had running water. I could not make it so that his parents did not have to work so much. I could not bring him along with me back to the US.
---
I recently returned from a week-long trip to Ecuador with thirteen other students from Boston College. Like many other trips to countries that are continuing to develop in a similar way to Ecuador, this experience was meant to be one of connection rather than "service" or "poverty tourism." We stayed with the full-time year-long Rostro de Cristo volunteers in the Guayaquil community of Monte Sinai, one of the most impoverished neighborhoods in all of Ecuador. We typically spent the mornings visiting the work sites of the volunteers and we spent the afternoons with the neighbors of Monte Sinai whom the volunteers had gotten to know well. Each one welcomed us into their home with the greatest hospitality and chatted with us. We talked to them about their lives in Monte Sinai, about their relationships with their families, about their dreams for their children, and about their faith. Similarly, they asked us about our romantic relationships, our hopes for our futures, and about our own lives.
The day after visiting San Felipe School where I first met my new friend Micah, we made a surprise neighbor-visit to the block where he lived. While there, we colored with the children and chatted for a while. I found Micah's spirit to be striking – he is quick to laugh, deeply patient both with my poor Spanish and also with his younger siblings, and excited to talk about what he learned in school. Yet, when I said, "Tenemos que ir," ("We have to go") signaling the end of our time together, his face fell and his eyes watered. And I could not do anything about it. I felt the pain of powerlessness and my eyes welled up, too.
---
It is often difficult to look the poor in the face. This is true whether you are in Ecuador or in the United States. It is difficult to look someone in the eyes knowing that despite whatever power you may hold, there may be nothing you can do to dramatically improve the life of that person in front of you in the immediate future. Of course we must work towards structural changes that promote justice in our world, but our first step is to turn our face to the marginalized, to come close to the face of God, and to see mercy there.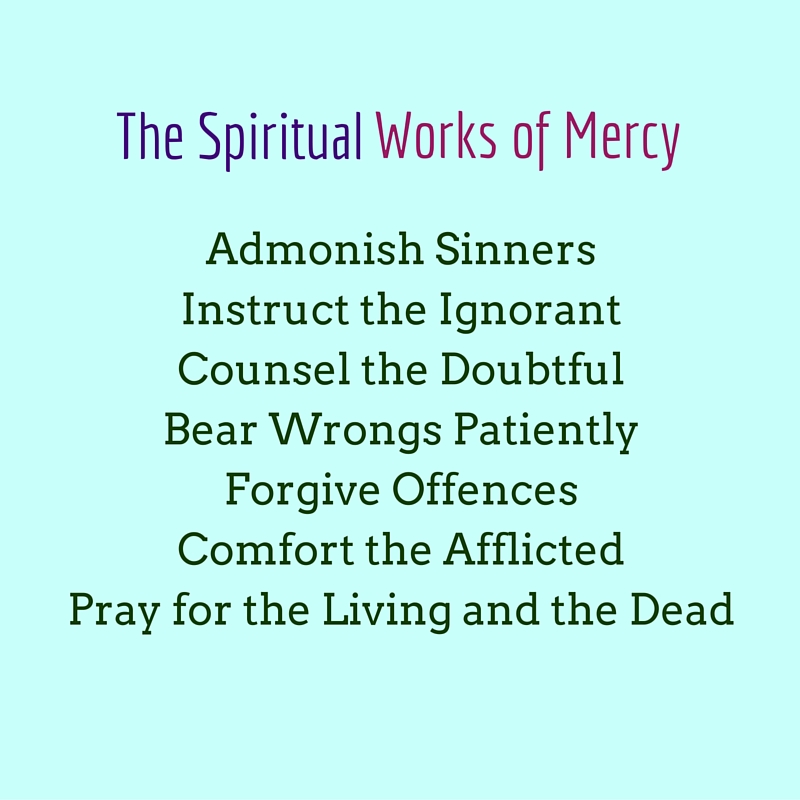 In the painfully short moments of connection with the neighbors of Monte Sinai, I believe that they gifted us with the spiritual works of mercy by welcoming us into their homes, opening up to us about their lives, offering us advice about living healthy, finding good relationships, and working towards a better world. These people, some of the poorest of the world, practiced mercy. Rather than any annoyance at these gringos invading their homes, they were joyfully present to us and were equally interested in connecting with us.
While facing the poor, you may find yourself to be surprised about the mercy you receive. Each of the people we met in Ecuador offered us the gifts of guidance, healing, peace, the example of their faith, and their hospitality. It was a radical subversion of our traditional places of power as they welcomed us into their homes and helped us to see God more clearly. I have often found this to be similarly true in the United States.
As we continue to reimagine life in the US it all comes back to our relationships with the poor. During this Year of Mercy, we are called into a special care for those on the margins, and I think we will often be surprised by what we find there. Though we certainly will find pain, sorrow, and frustration, I believe we also find the joy of the gospel and the joy of deep connection with God. As we come to see our powerlessness more clearly, we learn of God's abundant care for us and for our brothers and sisters. In experiencing the mercy of the poor and the hospitality of those who have nothing, we learn how to love better and how to be more merciful. We grow closer to God and are gifted with the Spirit that animates all that we are.