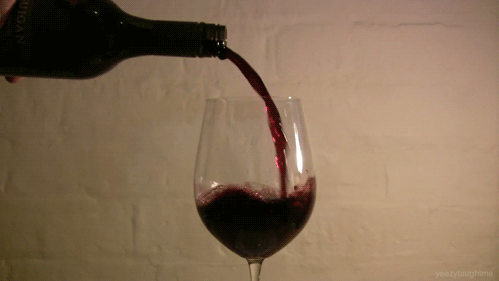 Have you ever seen one of those kitschy novelty items where a beer bottle, suspended in the air, appears to be constantly pouring beer into a glass? (Or something like this GIF on the left?) That image came to mind when I considered the story of the prophet Elijah who, on his journey, meets a widow whose jar of flour does not go empty and whose jug of oil does not run dry, despite the small amount she had left. This is a tale of God's literal providence. Throughout the Bible God provides food and abundance for his people. In Genesis God gives the first humans all the plants for food. Passing strangers are fed through Abraham and Sarah's hospitality and faithfulness. God warns Joseph about a famine in order to store up food for survival. Jesus multiplies loaves and fishes to feed a crowd. And then he gives us his Body and Blood as a kind of eternal food.
God provides in more than just spiritual ways. Have you ever had a lack of something, like food or money, and you realise later God provided? You got through it. The widow whom Elijah met said hopelessly that her remaining oil and flour could only provide enough food for her and her son, and then they would die. Yet God allowed the oil to flow.
While all Christians are called to a certain poverty, we must also recognise the abundance by which God provides for us. It's no mistake that Sundays and holidays are traditionally marked by a feast. Such moments of Christian indulgence are celebrations of the Resurrection, an event which marks the abundance of God's love poured out for all. The bottle endlessly pouring is a great image for Ignatius' Contemplation to Attain Love. In the meditation he describes God's gifts descending upon us like a fountain. David Fleming describes God's love as "poured forth lavishly like a fountain spilling forth its waters into an unending stream" (Draw Me Into Your Friendship, 181). This endless stream of love comes in the form of creation, our redemption, our talents, and graces.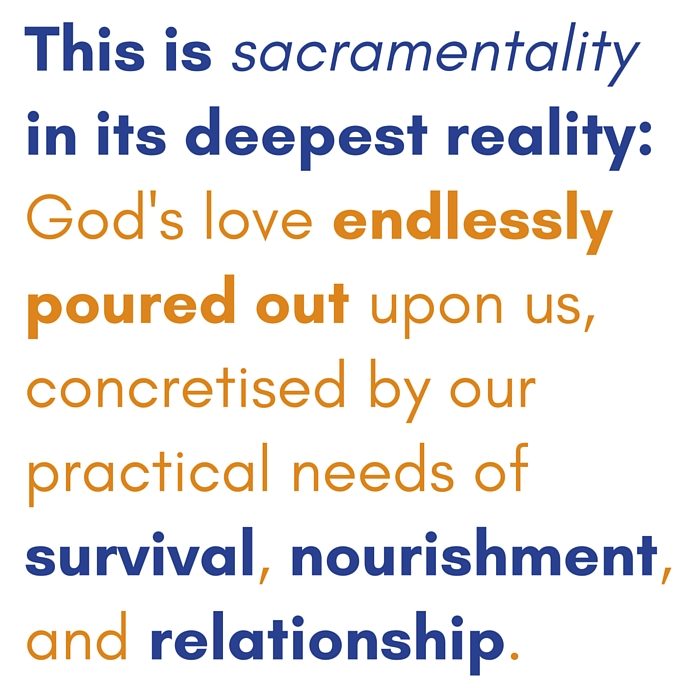 The Sacramentality of God's Love
This love outpoured becomes symbolised in the scriptures as manna in the desert, in wine at a wedding, in an abundant catch of fish, in the feeding of the 5,000, and in the Last Supper. Our God speaks to us through the symbols of our everyday and reminds us of God's spiritual providence through the things we can see, touch, and even eat. This is sacramentality in its deepest reality: God's love endlessly poured out upon us, concretised by our practical needs of survival, nourishment, and relationship. Time and time again Christ met people in their most basic human needs: health, food, and friendship. This reveals itself respectively in the Sacraments: Reconciliation and Anointing of the Sick (health), Eucharist (food), and Matrimony (friendship).
God is not about minimalism. God is about abundance—abundant giving of life, of forgiveness, of love. Notice this next Sunday's Gospel reading. It's not about loving little or forgiving little. Instead, Jesus preaches "great love" and great faith and forgiving large debts.
Let us take notice of the ways God pours out abundance upon us, materially and spiritually. And then let us recognise that abundance as gift untold.
Take, Lord, and receive all my liberty, my memory, my understanding, and my entire will—all that I have and call my own. You have given it all to me. To you, Lord, I return it. Everything is yours; do with it what you will. Give me only your love and your grace. That is enough for me.
Related posts:
Listen to an audio version of this post…