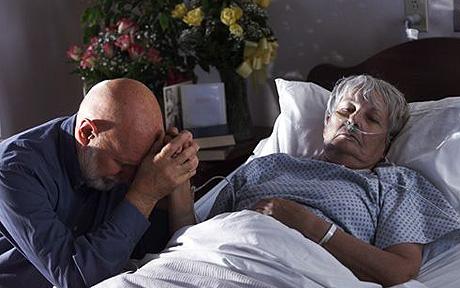 A year ago I was working as a chaplain at Georgetown University Hospital. It forced me to grapple with hard questions around suffering and the mystery of life. I recently wrote a reflection on how we can find grace in the midst of suffering for the 2 April issue of America Magazine. For me, the context in which I could put suffering came from my prayer a year earlier, on my long retreat as a Jesuit.
As Easter Triduum and Good Friday arrive this is a good time to look to the cross and beyond for hope.
---
When I worked as a chaplain at Georgetown University Hospital, I witnessed among my patients horrific losses, feelings of emptiness and the suffocating aftermath of lost jobs, lack of insurance and enormous medical bills. Most of us know someone who has suffered from cancer or some chronic medical condition. Suffering can also be financial, relational and spiritual. From a Christian perspective, we must attempt to find God's fingerprints in suffering: where is the grace?
The grace of suffering is often found in vulnerability. Some of my patients, for example, held positions of power at their jobs, but now they donned the same kind of hospital gown everyone else wore. Brought down to a level plane, to where humanity meets its fragility, we often pause and consider powers greater than our own. We seek God in unexpected ways, hoping to find answers. In these times of struggle, we yearn to depend on a God who seems to have betrayed us.
>> Continue reading here.