This is a guest post by Joanie Shook. Her beautiful reflection comes from one of her journal entries.
---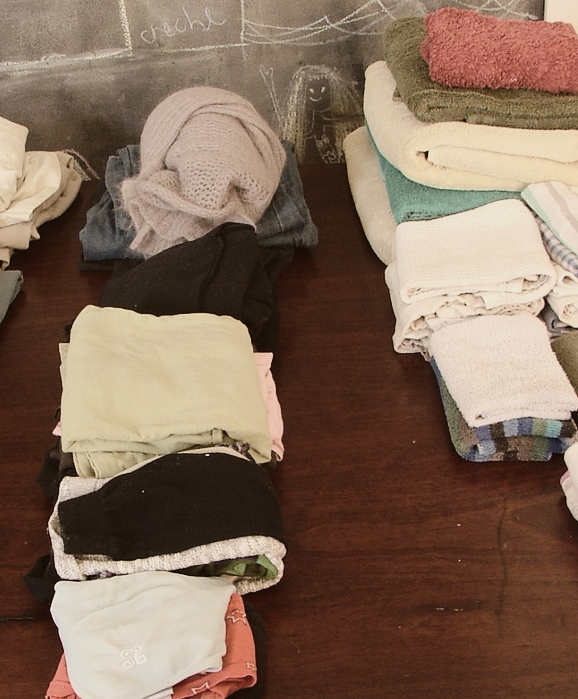 "Come, Momma! Come see what I did!" My child wrapped her hand around my pinky as I was washing up the last dish from breakfast. She pulled me toward the laundry room, and immediately the panic set in. I had put my delicate laundry in the dryer, just to kick start the drying process, before hanging them up. Sure enough, sweaters and blouses were "folded" and placed in piles according to their owners. All I saw were crumpled messes and yet another job that would need to be re-done. I could feel the frustration well up inside me.
And then, I looked down at the owner of the hand wrapped around my pinky, chocolate eyes beaming with pride. "I wanted to help you, Momma. You always help me". At that moment, as if the Holy Spirit flew directly into my heart, I suddenly thought of the bible verse, "Let the peace of Christ rule in your hearts, since as members of one body you were called to peace. And be thankful".
My daughter, barely three years old, had shown me in one small act so many things for which I should be thankful: She appreciated what Momma does to take care of her; and more importantly she wanted to reciprocate that care. She wanted to give back in a way that means love to her. In that one moment I had a choice. I could choose to scold, exasperated by one more thing to add back to my "to do" list, or I could reinforce and nurture in my daughter all the good that she is, that she gave by that one simple act of kindness. Good intentions: If you see with God in your eyes, they'll pave the road to serenity.
Joanie Shook is a 51 year old Bronx Irish Catholic who now calls rural Scio, Oregon home. She is a stay-at-home mom to three daughters (13 year old and five year old twins), and feels very blessed to be the wife of her husband Greg.
---
If you'd like to write for God In All Things please see the Submissions page.