This is a guest post in the form of a beautiful poem that came to me from Dorothy Dingle. After a bad fall left her incapacitated for a while, Dorothy struggled to let go of her daily "doing". Her parish priest suggested she take some time and do nothing. "Just be, and let God and the world wash over you," he told her. I'll let Dorothy finish the story:
"The following day I spent some time on the coast simply watching the waves breaking and the shingle rolling back and forth in the surf. I then found the shells – picked up ones which I thought were intact, turned them over and was awestruck by the glimmering beauty of the interiors in the sunlight. And from that experience came the message that in my physical and emotional brokenness God is nevertheless at work to bring an ever deeper healing and to open me up in ways I could not have imagined. Then overnight, the poem came."
---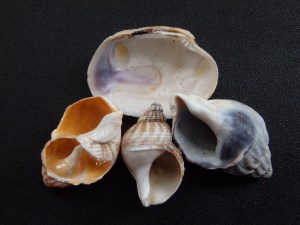 Crashing
Smashing
Turning
Churning
Breakers
Lifting
Shifting
Twisting
Tossing
Shells
Smacking
Cracking
Breaking
Shattering
Dashing against
Each other
Caught in the
Grasp of the
Sea
Powerless to
Drag themselves
Free
Then as the
Tide turns, the
Shells are left
Lying
Broken
Together as
Sunlight streams
Down
Power of the
Water and
Light of the
Sun's rays
Working together to
Change and
Transform
Breaking for
Making, for
Cleansing, for
Healing
And then for
Displaying the
Beauty
Within
Dorothy Dingle is a pianist, teacher, and author currently living in the south of England. She has always enjoyed the outdoors and has found it easiest to walk and talk with God in the garden. Recently she has begun to write poems as an attempt to express the inexpressible glory of God's grace and love. Read more of her poems at her blog, Hope On The Edge.
If you'd like to write for God In All Things please see the Submissions page.