Imagine getting this email. It may be from someone you've met briefly before, and it's addressed directly to you, but it's from a passionate leader who has a plan to change the world.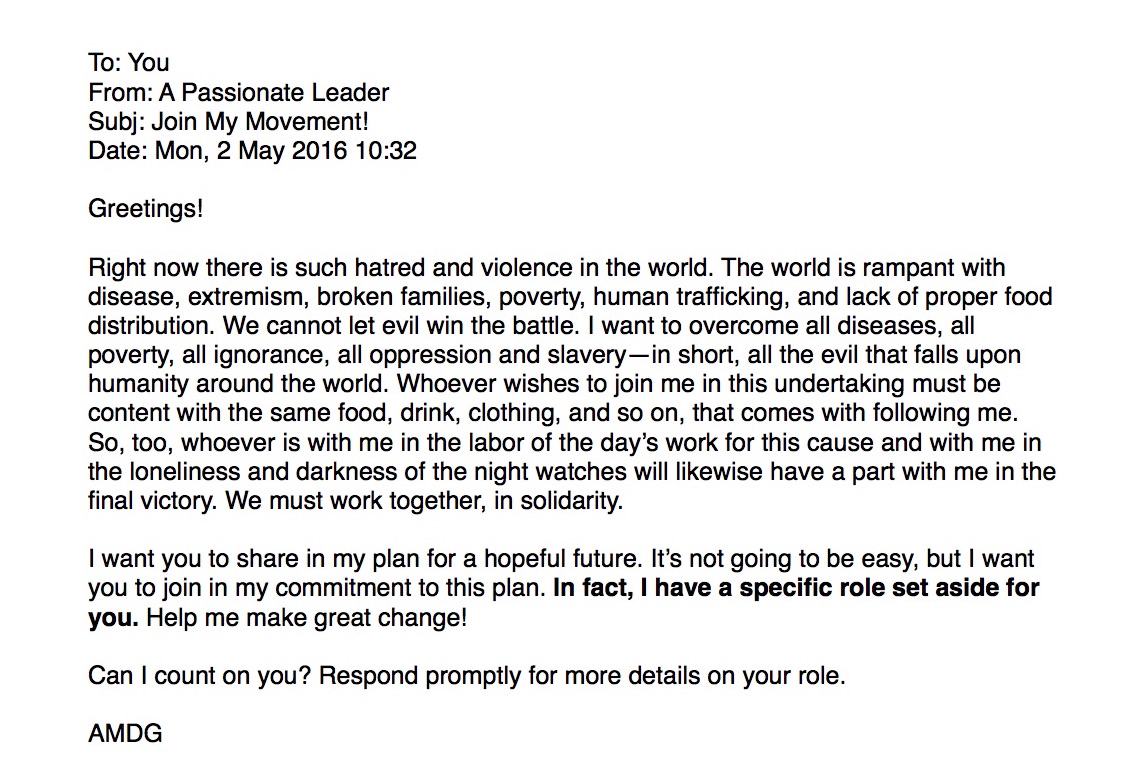 Well? How would you respond?
This is essentially St Ignatius' Call of the King meditation. He asks us to first imagine an earthly leader who calls us to a grand project of conquering evil in the world, fighting for social justice and peace. It's not going to be easy and you're going to have to conform yourself to the life that comes with the struggle. And this leader has a specific role for you in this plan, one that will engage your own gifts and abilities. Ignatius says that this leader has such a worthwhile cause that anyone would want to get behind it. Then he says: How much more worthy is the cause of Christ, who has the same mission, and even more? How can we not respond to the call?
I gave this email to my tenth graders and while most of them said they would sign on to help with such a worthy cause, not all of them were as committed. Here are a few of their responses to the passionate leader who sent the email:
Dear Passionate Leader,

Have you lost your mind? Unless you have an army of people and the billions of dollars it would take to fund this, everything you are saying sounds like a utopian fantasy. In addition, how on earth am I supposed to do anything? I am 15. I have a tenth grade education.
---
I don't know if I can do this. It will take 100% of my time and effort. Yes, it is a worthwhile cause. I will help if you need it. I will help, but I don't know if all this devastation on earth can disappear.

Do I get paid with money or spiritual wealth? Tell me which and I'll respond.
---
Thank you for taking interest in saving the world. I however cannot come with you on your journey. I don't want to. I am completely content with my life right now and I am not giving that up. Thanks anyway.
These three responses, while humorous, represent many real excuses we might make in choosing not to take part in Christ's work. Ignatius is so bold as to say that one who does not accept the leader's appeal deserves to be "censured by all the world, and held for a mean-spirited knight." Let's consider some of the excuses we make in responding to the call of Christ.
It's too big a job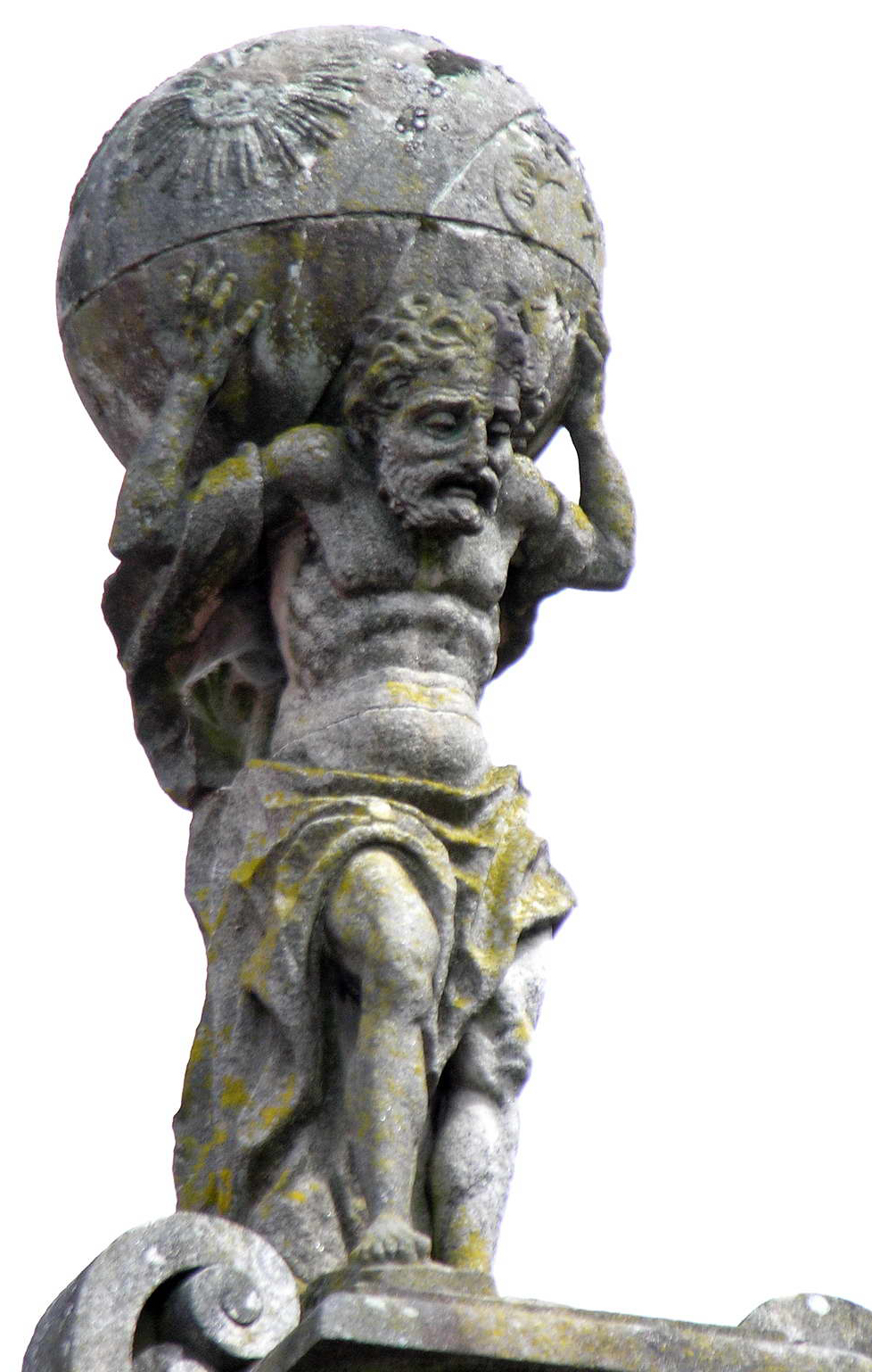 Bringing peace to the world and stopping violence and oppression is just too unrealistic. It's a utopian fantasy! – Trying to do the seemingly impossible stops a lot of people from pursuing dreams big and small. But this is God's project. Jesus told his disciples, "for God all things are possible" (Matt. 19:26, NAB). It's true that bringing peace and justice to the world seems unrealistic when humans are so fallible and tempted to sin, yet we know hearts are capable of change. Love and goodness is desired, deeply. The disciples' ministry to different parts of the world changed hearts and minds, brought communities together, and empowered others to continue the mission.
It may also seem unlikely that I can help. I certainly can't make a difference. When we all say this, no difference is made. Yet Jesus called a group of people who may have seemed so plain and boring to themselves that they too may have asked that question. What's so special about the Call of the King is that God seeks to use our unique gifts. We are all different parts of one body, with different functions and gifts required to make the entire body achieve its end. It's unfair to assume our unique skill and ability can't make an important contribution to the whole project. We need to ask ourselves, What am I good at? And then we must ask how we can use that gift for Christ's project to change the world.
I don't want to give up what I have
Joining onto such a monumental movement means I'm going to have to give up parts of my life and time. Such a mission is going to require 100% of my time and I'm not willing to give 100%. – The Christian life does require a great deal. If we want to be a part of this mission we can't be complacent, and too often we are. Jesus asked his disciples to give up their family, their possessions, and their former way of life. It was radical. But often the call of Christ for us means doing the mission within the context we're in right now: at our work, at home, among friends and strangers, and in our communities. It requires the commitment of time and the sacrifice of other things that call for our attention. When we tell God no, that we're too content with how our lives are now, we forget that it was God who gave us that life!

What do I get out of it?
If I'm going to devote so much time and energy to this cause, I need to know what's in it for me. Do I get money or spiritual wealth? – Right after Jesus told his friends that all things are possible for God, Peter says, "We have given up everything and followed you. What will there be for us?" (Matt. 19:27, NAB). Jesus replies, "Amen, I say to you that you who have followed me, in the new age, when the Son of Man is seated on his throne of glory, will yourselves sit on twelve thrones, judging the twelve tribes of Israel. And everyone who has given up houses or brothers or sisters or father or mother or children or lands for the sake of my name will receive a hundred times more, and will inherit eternal life."
So the answer to the question? Spiritual wealth. But such an intangible kind of wealth that we have to wait for is not enough a reason for some to commit to Christ's cause. Instead we want something we eventually will have to let go of at the end of our life: money. It almost doesn't make sense. "Sorry, I don't want eternal life. I'd rather some money that will only be useful the next 50 years or so."
The Christian life is outwardly focused. Our daily motivation should be for others. Even our earning money at work should be for the purpose of helping us contribute to the betterment of the world. At the end of the Call of the King meditation Ignatius suggests that the retreatant spend time reading the Gospels, the Imitation of Christ, and even the lives of the Saints. By seeing how others respond affirmatively to Christ's call we can make our response even more whole and sincere. We can learn that being Christian is not only about what we have to "give up" but about how we love. The grand and monumental project to change the world is about freeing the world from the power of evil, bringing people into communion with one another and with God—and we are a part of it.
You got that email because that passionate leader saw something in you. They knew your heart and they knew your gifts were a perfect fit for such a worthy cause. God calls us to that world-changing project for the same reason. How will you respond?
Listen to an audio version of this post…