This is a guest post by Rosie Driscoll.
---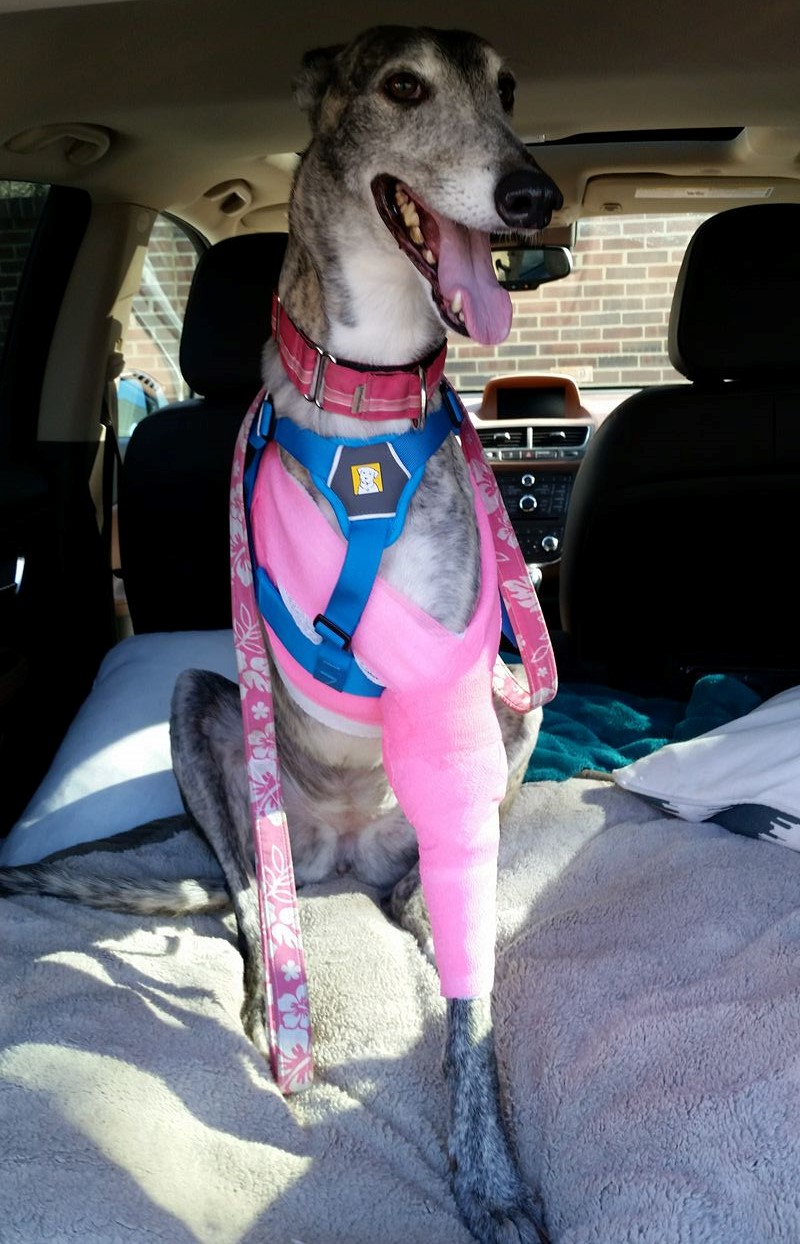 In my 2015 guest post, God in the Greyhounds, I shared a few ways in which our greyhounds, Chance and Nelly, help me to encounter God. Both hounds continue to illuminate God's presence, but my recent journey with Nelly has led me on an unexpected path to God's healing.
Nelly's Wound
Nelly broke her leg racing at a greyhound racetrack. After two surgeries to repair the damage to her broken bones, she was delivered to our home for adoption. Sadly, chronic bone infections subsequently set in, and in November 2017 Nelly's right front leg was amputated. Soon after surgery she was doing well – even leaping over a retaining wall in our backyard to chase a squirrel – when a pressure sore on the elbow of her remaining front leg quickly opened up into a wound that exposed her bone. Since that December day, Nelly embarked on a journey of daily treatments to save her remaining front leg. That journey, punctuated by progress and setbacks, continues today.
Navigating the Yard
Nelly's movement is now limited. The trauma to her body not only exacerbated her limp, but has made her adjust how she uses her back legs, resulting in muscle strains that constrain fluid movement. In our backyard she is less likely to look up to notice the squirrels that once absorbed her attention, instead looking downward and focusing on how to navigate the terrain.
We are all wounded in some way. Just as Nelly's wounds affect her ability to navigate our backyard, our psychic wounds affect how we make our way through this world. They can make us limp and compensate as we favor some emotional muscles over others. They can make us look downward to focus on survival rather than lifting our eyes up to God and his desires for our happiness. As I lead Nelly through the yard on her leash, she leads me to consider how my own psychic wounds have made me compensate by repeating habits I developed to protect myself from injury as I make my way through my life terrain.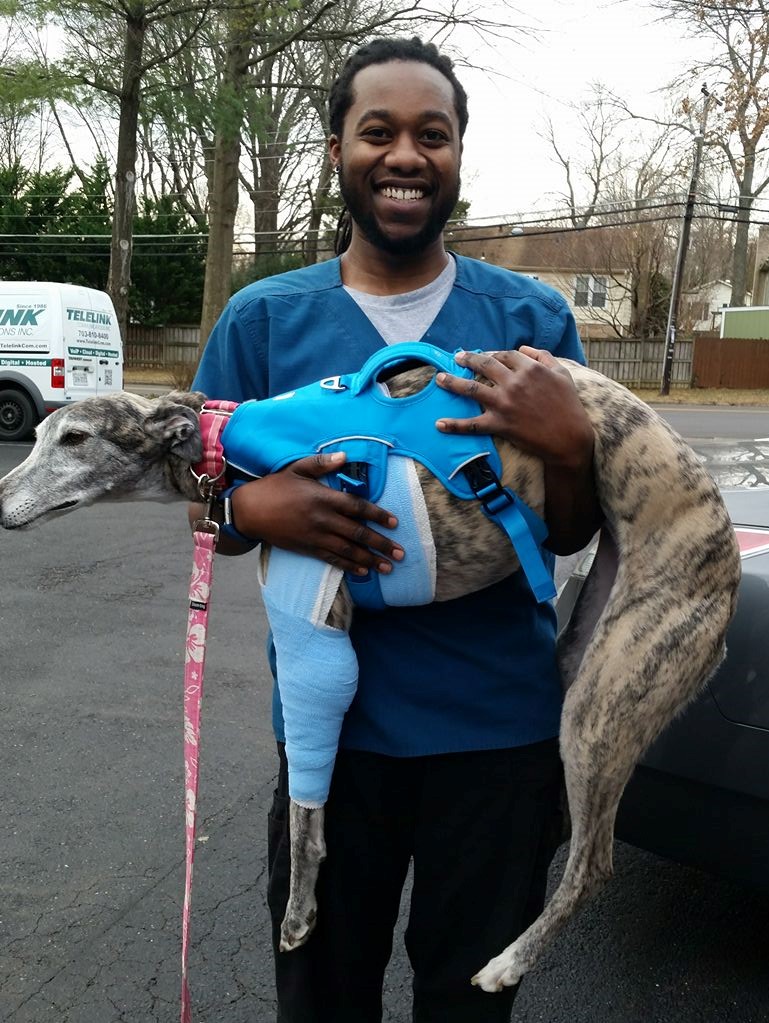 Daily Wound Care
Despite her struggles, Nelly has been healing slowly but surely as a result of her frequent treatments and bandage changes. Like Nelly's physical wounds, our psychic wounds require regular care, yet it dawned on me that I am willing to devote time each day to Nelly's wound that I am not willing to devote to treat and bandage my own. I make halfhearted promises that I'll take better care of my physical and emotional needs, but choose instead to take care of people and situations I think are more important.
Perhaps that is one of the ways I have compensated for my particular wounds, as I measure my worth in terms of how much I can give to others or how much I can accomplish, even if I overdo it and am left drained and ornery. There is an element of ego at work here that God must want to break through. In my journey with Nelly, God has reminded me that my worth lies simply in this: I am his beloved child. And like any loving father, God wants me to be well and whole. He wants my exiled self to return home: "For I know the plans I have for you," declares the LORD, "plans to prosper you and not to harm you, plans to give you hope and a future. Then you will call on me and come and pray to me, and I will listen to you" (Jeremiah 29: 11-12).
Nelly, my canine prophetess, mirrors my woundedness and beckons me to call on God to treat my wounds every day through daily prayer, a time when I am reflecting on how my wounds affect my daily walk through life, and asking God how he wants me to surrender to his healing touch.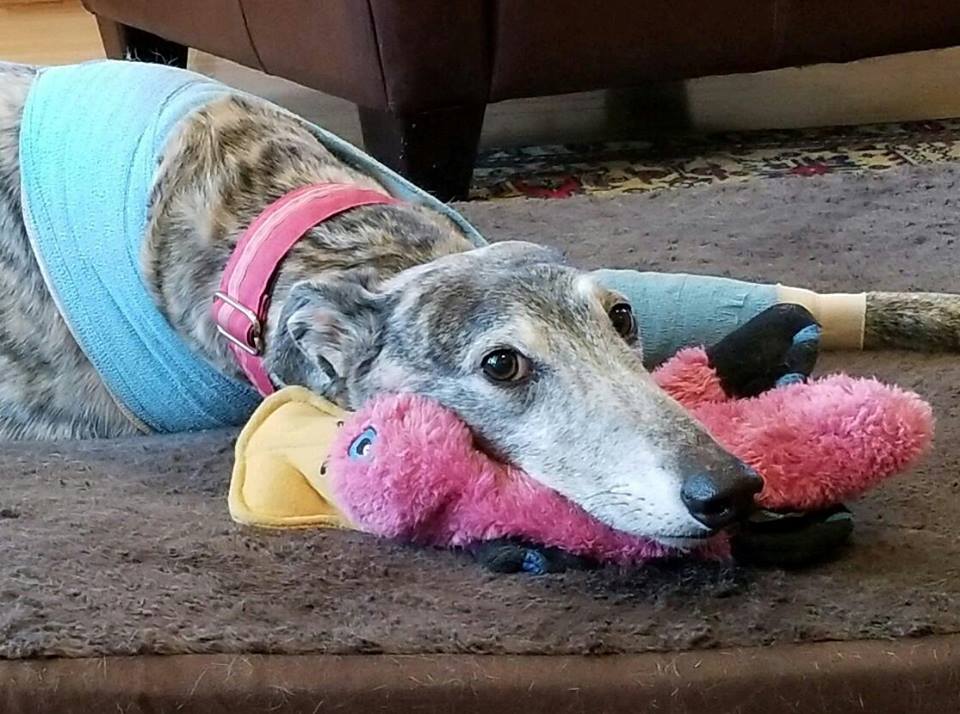 Surrendering to Care
Nelly's attitude amidst her suffering has surprised and challenged me as I witness her surrender to treatment and her trust in her healers. Despite the pain and discomfort she endures during bandage changes, she always goes cheerfully to treatment, wagging her tail energetically and showering wet kisses on the veterinary staff.
When I am hurting my inclination is to avoid pain and hide from those who want to help me. Perhaps it is that same ego rearing its head, leading me to a false faith in self-reliance. Perhaps I'm afraid that digging into painful areas of my life will hurt too much. In my darker moments I question whether I am worthy of such love and tenderness.
But as Fr Greg Boyle, SJ reminds us: "There is a vastness in knowing you're a son/daughter worth having. We see our plentitude in God's own expansive view of us" (Tattoos on the Heart). Even in her brokenness, Nelly dons that expansive God-view of her worth like a mantle of glory. By welcoming her healing and her healers, Nelly is guiding me to accept help more humbly and cheerfully. She is leading me on a gentle path of surrender to God's love made manifest in the kindness of others – made manifest in accepting my woundedness, and God's plan for my healing.
Rosie Prohías Driscoll is an educator and poet who serves as Coordinator of Middle and High School Faith Formation at Good Shepherd Catholic Church in Alexandria, VA, where she lives with her husband and two greyhounds.