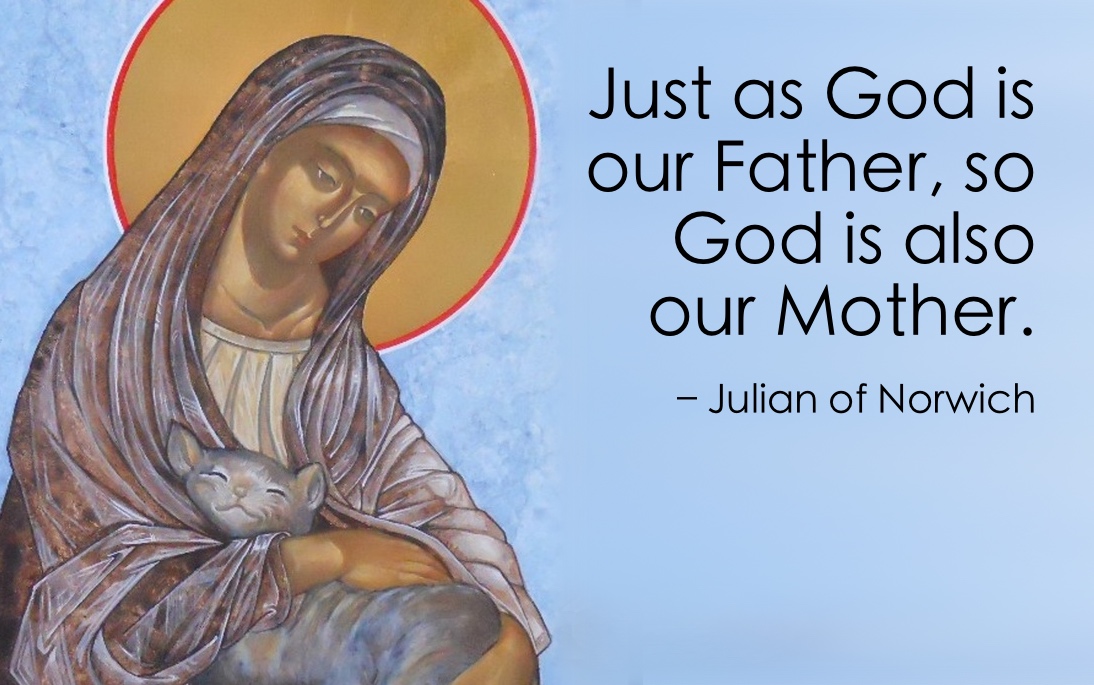 Mother's Day got me thinking about how the family is truly a representative of the divine and God's desire for us to be in union. It's no surprise that the Judeo-Christian tradition lavishly uses metaphors of familial relationships: Father and Son, sister and brother, bride and bridegroom, Blessed Mother. We speak of the Holy Family of which Jesus was a part. Salvation was birthed through a family. The scriptures call us adopted sons and daughters of God and speaks about God's chosen people as kin of Abraham. I believe God communicates this sense of intimacy God desires with us through family relationships.
All of us are part of families. And a family only needs two people. Yet our Christian family extends through place and time. Our human family goes even further. "Who are my mother and my brothers?" Jesus asks. The ones who are a part of this larger family of God. Families are never perfect, but our faith tradition gives us an ideal toward which we're called to strive. The families of the biblical stories were far from perfect, yet God used them to work out our salvation.
Mary images the ideal mother, who is often called the first disciple, committed fully to her son's hopes and dreams. She is by his side until the very end, to the cross, and beyond. Mary reminds us that God is just as much mother as father. She manifests God's gentle care and commitment to God's children. She makes clear her dedication to those beyond herself. She is faithful to her son's mission. Who would Jesus appear to first after his Resurrection, St Ignatius asks. His mother. Imagine such a reunion.
National holidays like today remind us how important familial roles remain to our society. Yes, families are broken and relationships sometimes fractured, but this doesn't dismiss the reminder that families are the primary place where God's love and intimacy can be first shown. And today it's important to reflect on the scriptural images of God as mother, a protective mother hen, and even a mother who is our advocate, a word Jesus uses to describe the Holy Spirit who is often named using a feminine word.
Allison Woodward's poem "God Our Mother" captures the raw spiritual reality and divine manifestation mothers are:
To be a Mother is to suffer;
To travail in the dark,
stretched and torn,
exposed in half-naked humiliation,
subjected to indignities
for the sake of new life.
To be a Mother is to say,
"This is my body, broken for you,"
And, in the next instant, in response to the created's primal hunger,
"This is my body, take and eat."
To be a Mother is to self-empty,
To neither slumber nor sleep,
so attuned You are to cries in the night—
Offering the comfort of Yourself,
and assurances of "I'm here."
To be a Mother is to weep
over the fighting and exclusions and wounds
your children inflict on one another;
To long for reconciliation and brotherly love
and—when all is said and done—
To gather all parties, the offender and the offended,
into the folds of your embrace
and to whisper in their ears
that they are Beloved.
To be a mother is to be vulnerable—
To be misunderstood,
Railed against,
Blamed
For the heartaches of the bewildered children
who don't know where else to cast
the angst they feel
over their own existence
in this perplexing universe
To be a mother is to hoist onto your hips those on whom your image is imprinted,
bearing the burden of their weight,
rejoicing in their returned affection,
delighting in their wonder,
bleeding in the presence of their pain.
To be a mother is to be accused of sentimentality one moment,
And injustice the next.
To be the Receiver of endless demands,
Absorber of perpetual complaints,
Reckoner of bottomless needs.
To be a mother is to be an artist;
A keeper of memories past,
Weaver of stories untold,
Visionary of lives looming ahead.
To be a mother is to be the first voice listened to,
And the first disregarded;
To be a Mender of broken creations,
And Comforter of the distraught children
whose hands wrought them.
To be a mother is to be a Touchstone
and the Source,
Bestower of names,
Influencer of identities;
Life giver,
Life shaper,
Empath,
Healer,
and
Original Love.
Allison Woodward's poem was written for The Liturgists podcast, God Our Mother.
Related posts:
Listen to the podcast version of this post…
"God Our Mother" by Allison Woodward is used with permission.