Some of the best wisdom from St Ignatius comes from his First Principle and Foundation (P&F), at the beginning of the Spiritual Exercises. It tells us the purpose of our life in God and how we're supposed to live it. Here is a contemporary translation of it from David Fleming, SJ:
God who loves us creates us and wants to share life with us forever. Our love response takes shape in our praise and honor and service of the God of our life.

All the things in this world are also created because of God's love and they become a context of gifts, presented to us so that we can know God more easily and make a return of love more readily.

As a result, we show reverence for all the gifts of creation and collaborate with God in using them so that by being good stewards we develop as loving persons in our care of God's world and its development. But if we abuse any of these gifts of creation or, on the contrary, take them as the center of our lives, we break our relationship with God and hinder our growth as loving persons.

In everyday life, then, we must hold ourselves in balance before all created gifts insofar as we have a choice and are not bound by some responsibility. We should not fix our desires on health or sickness, wealth or poverty, success or failure, a long life or a short one. For everything has the potential of calling forth in us a more loving response to our life forever with God.

Our only desire and our one choice should be this: I want and I choose what better leads to God's deepening life in me.
It's a lot to unpack, but I'd like to offer a few highlights.
First, the purpose of our life is sharing life with God. Louis Savary states it this way: "Bringing all creation together into one magnificent conscious loving union." Our purpose is not to "get to heaven", though that phrase essentially means that sharing and union. This union with God and creation is the crux of our entire life. Note how community-oriented this is. It's not just about God and me, but about God, me, and all creation. I'm called to be in communion with my family, those who are different from me, and even animals and the environment.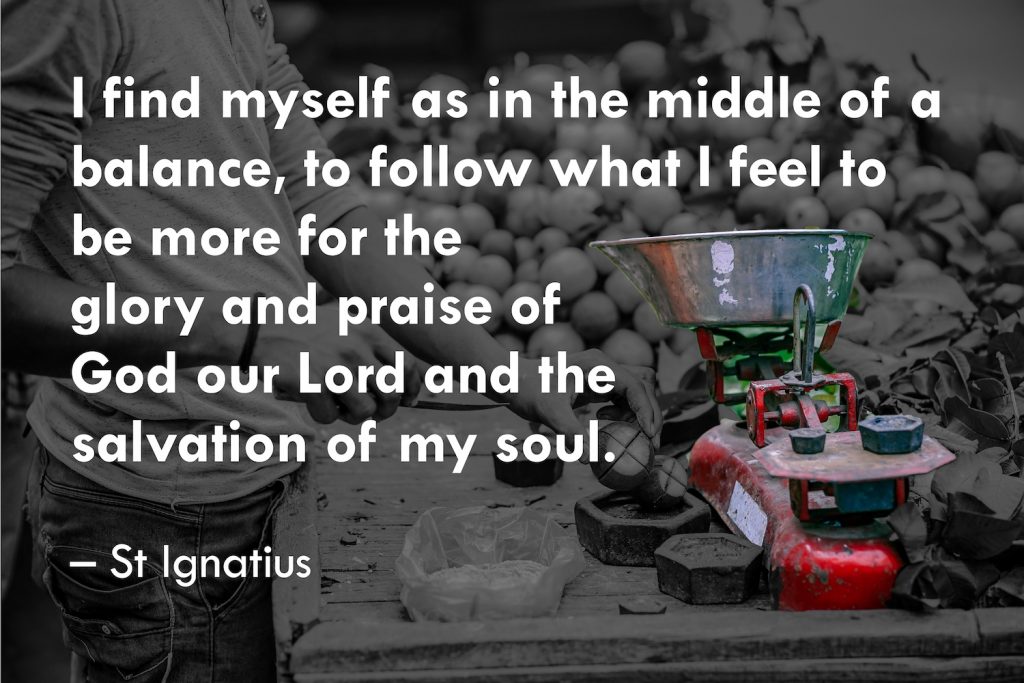 Ignatius then says, all that is given to us by God are gifts that ought to help us to that end. Fleming beautifully describes these gifts as "presented" to us, as if God is saying, "Here, I'm offering you these things, these gifts. Use them in ways that help you love better." We know humanity sometimes has the tendency to treat these gifts as things to be used carelessly, yet we also see those who have the desire to cherish the gifts and use them in ways that care for creation. Howard Gray, SJ asks the central question of this part of the P&F, "Do I substitute the good of creation for the God of creation?"
Then Ignatius calls us to an indifference before all created things, in other words, not clinging to one gift or another. We can see ourselves sometimes clinging to things like health or money or status or power, as if they are what define our lives. Fleming notes in his version of the P&F that if we make any gift the centre of our lives "we break our relationship with God and hinder our growth as loving persons." Growing as loving persons is the trajectory of the spiritual life the P&F is trying to convey. It's no coincidence that the Examen follows the P&F in the Exercises. The Examen is a prayer habit that sets us on this trajectory. It helps us daily ask the questions, How am I using God's gifts of creation? How am I growing as a loving person?
The Examen also tunes us into how our daily choices, big and small, contribute to our growing closer in union with God and creation. We're reminded that our daily lives matter. Our daily lives matter to God! We should have a growing sense of being loved as we are, being called to share our gifts, to love more boldly, to be more free. Fleming describes this growth as developing "as loving persons in our care of God's world and its development." The P&F reveals that God wants us to be free to choose to love.
Using the wisdom of the P&F one can say that Ignatian spirituality is all about a recognition of God's gifts, a loving response to these gifts, a freedom that doesn't allow any particular gift to take the place of God, and how all our choices are informed by our life's purpose, which the P&F puts forth.
Make a list of the gifts in your life God has given you. Pray with them. Ponder the questions the Principle & Foundation asks.
Related posts:
Listen to the podcast version of this post…