This is a guest post by David Herr.
---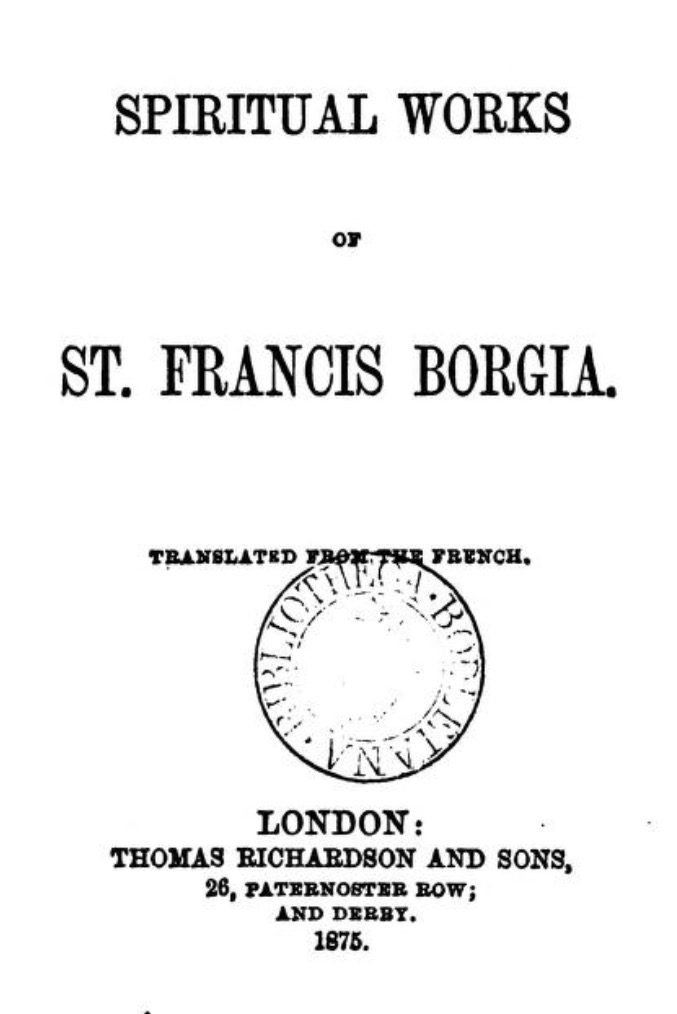 Many are familiar with the Spiritual Exercises of St. Ignatius Loyola. Fewer are aware of the spiritual exercises of St. Francis Borgia, the third Superior General of the Jesuits.
Francis Borgia was born in Spain in 1510 into the wealthy and powerful Borgia family. The Borgia's were infamous for their ambition, corruption, and dishonesty, even assassinating those who stood in their way. Francis's family members, especially his uncle, were the subject of Machiavelli's work "The Prince", becoming immortalized as the archetype of evil cunning and manipulation. Francis, however, was quite different. He showed great humility as a child, and wanted to become a monk. Family affairs did not allow this, and Francis was instead married a Portuguese noble woman, had eight children, and was appointed Duke of Gandía. After his wife's death, Francis became a Jesuit, and eventually became the third Superior General of the Society of Jesus. He helped expand the Jesuits, founded dozens of colleges, and was spiritual advisor to kings and queens.
Francis wrote his own spiritual exercises for private use while on an Ignatian retreat following his wife's death and before becoming a Jesuit. Let me offer a brief summary of his writing.
Seeing the Gift
Francis sought to find God in everything, even the most mundane and routine tasks, from dressing in the morning to going to bed at night, and everything in between. Whether eating, walking, standing or sitting, Francis could meditate on it, connecting it with a scene from the gospels or some spiritual truth. Some might find this obsessive, but Francis points out throughout his writing that given all God has done for us, we ought to be obsessing.
Gratitude and humility were of most importance to Francis, and every meditation and exercise he wrote aimed at strengthening these virtues. The two go together. Gratitude humbles us and humility makes us more grateful as we become more aware that everything is an undeserved gift.
Suffering
Francis united his sufferings to God's. Among the commonplace experiences, are the commonplace pains. Being hungry, thirsty, tired, sick, insulted, falsely accused, unheard, and silenced by our peers, can help us better understand God, who became one of us to experience these and much worse.
It was not just the smaller sufferings. Francis wrote his spiritual exercises while on retreat after his wife's death. Awareness of how precious and, at times, painful life is, can be a great spiritual driving force.
One of Francis's many reflections on nature (have I mentioned he found God in everything?) poetically remind us of the great love God shows us through suffering.
"Let us consider that the animals which live in the waters, represent our Lord, who lived in the waters of tribulation; and that they are a figure of those holy souls who lives, so to speak, in the blood of our Savior, by the constant meditation of His sufferings. That the birds of the air, which build their nests in the holes in the rocks, are symbolical of those who find their repose in the wounds of Jesus crucified. Finally, that we, the [daughters and] sons of mere [women and] men, have become the children of God by the merits of our redeemer."
In case you think all this zealous finding God in everything was the result of the spiritual high from being on retreat, think again. Years later, as Superior General of the Society of Jesus, Francis sent a letter instructing his missionaries:
"We must perform all our works in God and refer them to his glory so that they will be permanent and stable. Everyone—whether kings, nobles, tradesmen or peasants—must do all things for the glory of God and under the inspiration of Christ's example. . . When you pray, hear Mass, sit at table, engage in business and when at bedtime you remove your clothes—at all times crave that by the pain which he felt when he was stripped just before his crucifixion, he may strip us of our evil habits of mind. Thus, naked of earthly things, we may also embrace the cross."
Clearly finding God in everything and seeking greater gratitude and humility were life long-long pursuits for Francis. Francis acknowledged "evil habits of mind" in the letter to his missionaries, but also preached the power of good spiritual habits. Something we could all use a reminder of now and again.