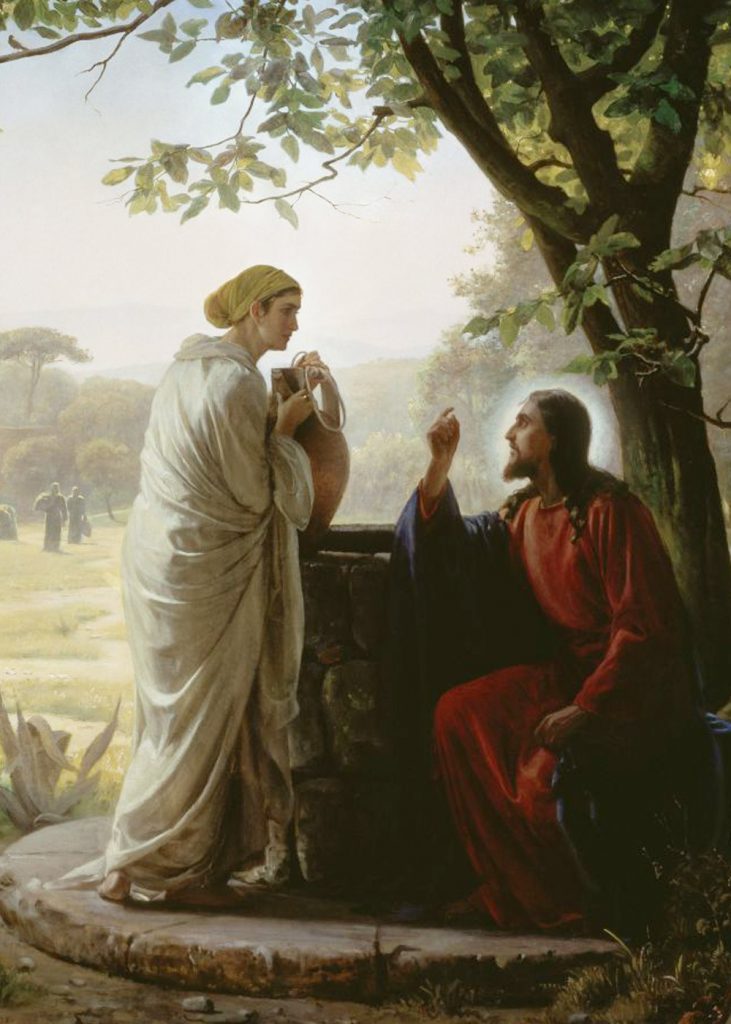 For many of us these days our energies are focused in fewer places than normal, which means those energy streams are intensified. When we've given of ourselves over and over and spent our energies in places longer than we ever would have imagined, we can quickly find our wells dry. I'm having to give even more of myself to my children since they've been without childcare, while meeting the demands of work at the same time. We can notice the dryness of our well as more frustration, impatience, or distraction. We say things like, "I'm running on empty." And our reaction is to fill up the well so we can feel normal again. The thing is, many of us can have the tendency to fill our wells with unhealthy things: overeating, drinking, binge-watching TV, or the news. These are ultimately not very life-giving and they create more restlessness.
Henri Nouwen once asked, "Do we really want our mind to become the garbage can of the world? Do we want our mind to be filled with things that confuse us, excite us, depress us, arouse us, repulse us, or attract us whether we think it is good or not?"
I am reminded of the Gospel story of the Samaritan woman who encounters Jesus at the well. The woman comes looking to fill her bucket with water from the well and she meets Jesus, who himself needs some water after being worn out. They engage in conversation, but I think Jesus senses something deeper going on with this woman, a deeper thirst. He likely knows that she is coming to the well at the hottest time of day because she feels ashamed to go when the other women fetch water in the morning. And so he wants her to fill her own well with something she didn't know she was searching for: living water.
She doesn't get it. But then she opens up to Jesus. She's had five husbands and is living with a man who is not her husband, likely the reason she's ashamed to draw water in the presence of other women. She is filling her well with the unhealthy kinds of things. In this pandemic we may have discovered our own tendency to fill the empty spaces in our days with things. When our wells have been emptied by a continuous pouring out of ourselves, a moment of pause and rest can help us be filled again with God's life-giving energy. Can we fill ourselves with true rest in God? Solitude, a walk, enrichment, self-care, cultivating our talents, prayer, music…
In the Message translation of the Bible, Jesus says, "Everyone who drinks this water will get thirsty again and again. Anyone who drinks the water I give will never thirst—not ever. The water I give will be an artesian spring within, gushing fountains of endless life." Wow!
So these days have forced us to listen to the restlessness. What do we need? What is empty? What needs to be filled? Where are we seeking our water?
The living water that Jesus offers to the woman is God. Ignatian author Margaret Silf has a wonderful illustration of spiritual freedom from her book, Landmarks. It comprises three concentric circles. The outer circle is the "Where-circle" This is about the various facts and circumstances of our life, like where we live, what job we have, who we're married to, etc. The reality of the COVID-19 pandemic would be in this outer circle. The next circle in is the "How-circle". This circle has to do with our choices and decisions, which may affect the "Where-circle". Finally, the inner core is the "Who-centre". This has to do with our identity, our true self, who we've been made in God.
Many of us, says Silf, tend to stay at the outer two circles. Our focus is on things like the house we have or money or whether our choices are restricted – often because of circumstances beyond our control (like this pandemic). And so we fill our wells with these kinds of things, ways we can maintain control, or stay on the surface. The invitation is to move into that "Who-centre" to be—as Silf beautifully says—"dipped in God". Then we can return to our circumstances a little bit more free and transformed. The life-giving water is in the "Who-centre": it is God. It's where God and I meet! So what we choose to fill our wells with ought to come from that centre.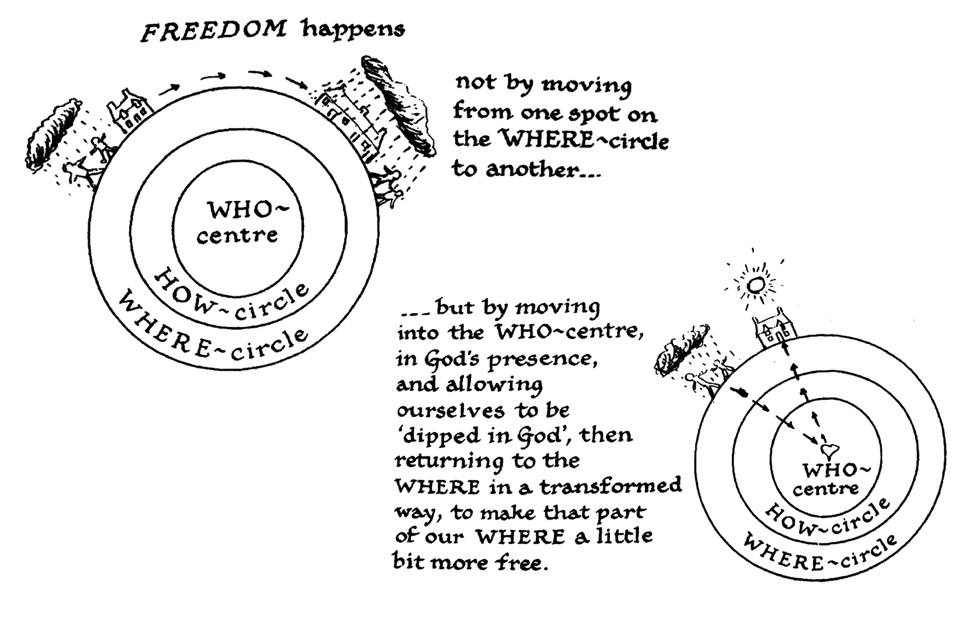 How am I seeking freedom these days? Can I allow myself to be dipped into the life-giving water of God and emerge to these strange times with new eyes?
Listen to the podcast version of this post on the episode page, especially if the player below doesn't work.